Tofu Fried Rice with Seitan, Broccolini, & Pickled Shallots
If you are looking for a vegetarian protein source that has a meaty texture, seitan might be right up your alley.
Similar to tofu and tempeh, its flavor on its own is fairly lackluster. However, if you marinate it, it will take on any flavors you add to it.
Personally, I suggest to stay away from flavored products, as they tend to have added sugars. Using your own marinades gives you more control.
Knowing what goes into your food is one of the major components in taking charge of your own health.
When you can control what goes into your food, then you will be better equipped to make changes over time.
Cook and Prep Time: 40 minutes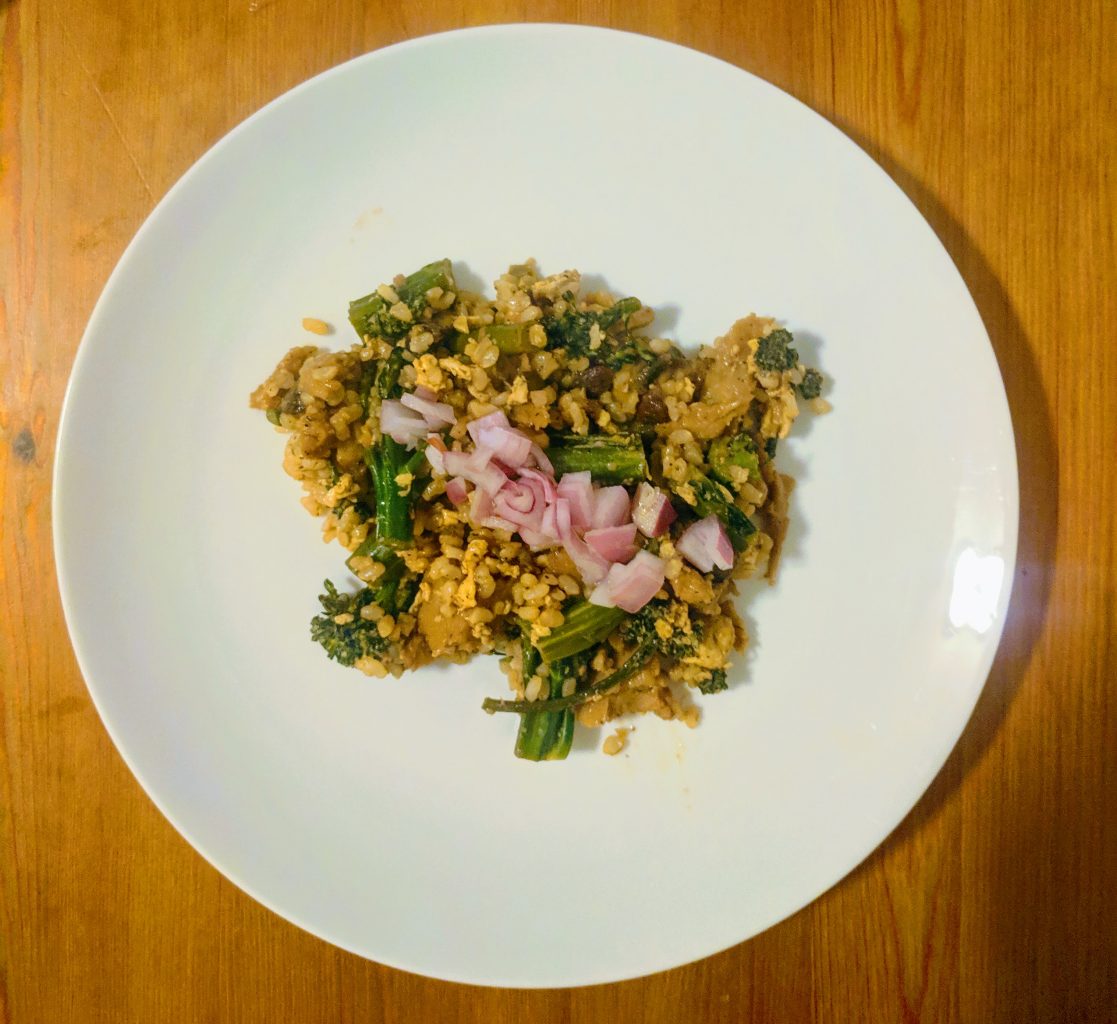 Serves: 2
You Need:
½ cup Brown Rice
2 Eggs, beaten
1 container Seitan, drained and cubed
1 bunch Broccolini, chopped
3 Shallots, diced
3 cloves Garlic, minced
Olive Oil
Salt, to taste
Black Pepper, to taste
½ cup White Vinegar
2 tbsp. Tamari
1 tbsp. Red Miso
1 tbsp. Organic Hoisin
1 Lime, juiced
DIRECTIONS
Rinse and chop the produce accordingly. Bring the rice and 1 cup of water to a boil. Once boiling, reduce heat to a simmer and cover until water has fully evaporated, 20 minutes.
In a small bowl, mix tamari, miso, hoisin sauce, and lime juice. In another bowl, add the eggs and whisk until beaten. Break the seitan into smaller pieces and season with salt and pepper.
In another bowl, add the chopped shallots to a bowl and cover pour the white vinegar over them. Set aside until ready to serve.
In a large frying pan or wok, add 1 tbsp. olive oil and set to medium-high heat. Add garlic stirring occasionally until garlic is fragrant, 30 seconds.
Add broccolini, and sauté for 3-4 minutes, until slightly softened. Then, add seitan and cook for 3-4 minutes more.
Pour over half of the tamari-hoisin mixture and stir to combine. Then, make a well in the middle of the pan or wok and add the beaten eggs. Cook the eggs until firm and stir to combine. Add the rest of the tamari-hoisin mixture and stir to combine for 1 minute more.
Add the rice and stir to combine, and cook for 1-2 minutes more. Then, distribute the fried rice evenly amongst serving plates. Garnish with pickled shallots. Enjoy!