Salads can be tricky.
Many people associate eating a salad with eating healthy. If you're getting the right ingredients and adding a lot of color to your salads, you are probably right!
But inevitably, it gets to the point where people feel stuck because they end up eating the same salad with the same boring dressing. This leads to giving up due to a lack of variety.
This is why I find salads a challenge. If you are going to make an unforgettable salad you actually WANT as a meal, you need to get creative. You have to add texture, different temperatures, and creative dressings.
I think this salad is a good example of bringing those principles together to make a delicious dish you can go back to again and again.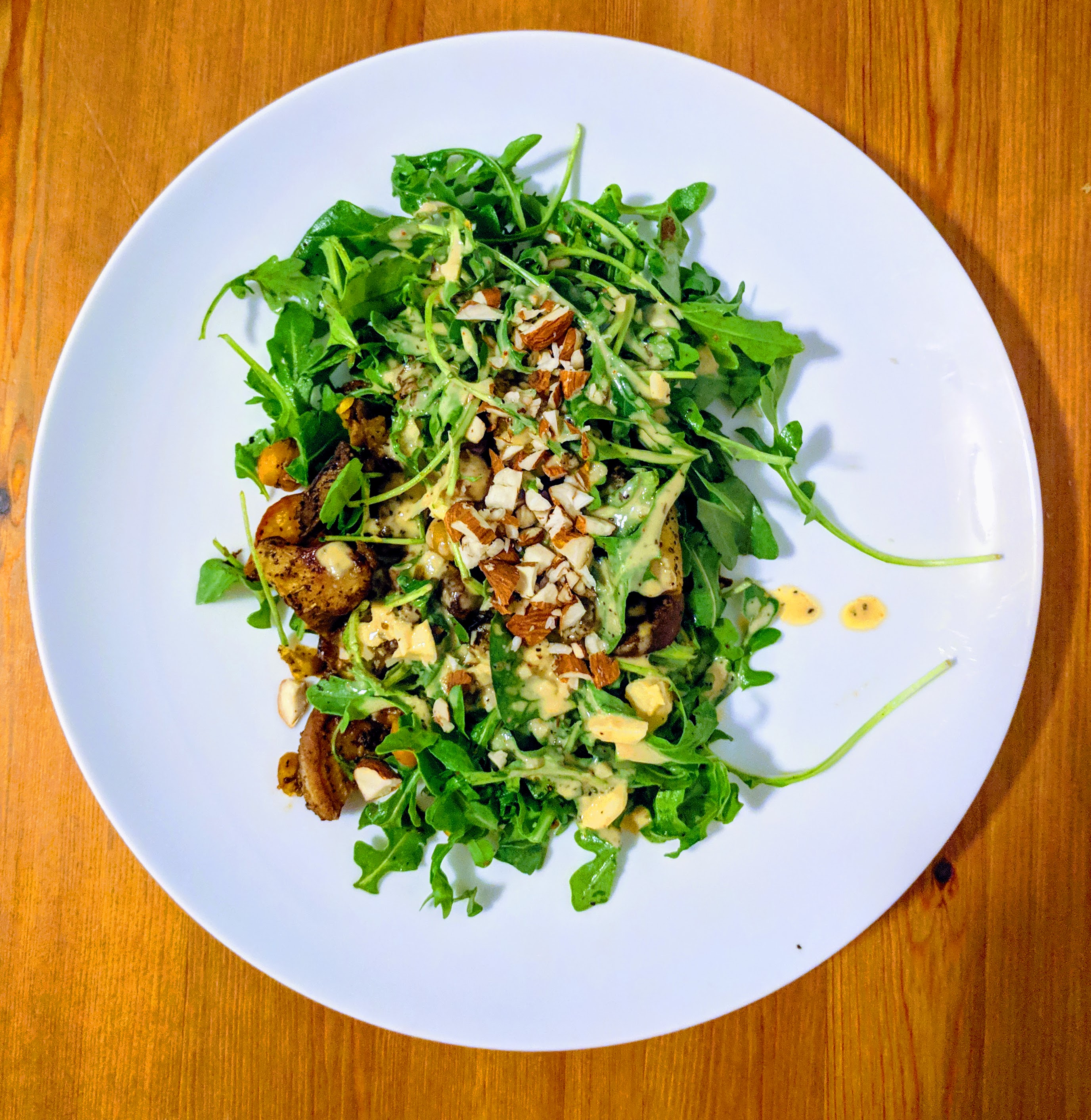 Serves: 2
You Need:
1 5 oz. container Arugula
1 small can Chickpeas, rinsed and drained
5 oz. Sunchokes, chopped
1 handful Almonds, chopped
1 tbsp. Turmeric
Olive Oil
Salt, to taste
Black Pepper, to taste
For the Dressing:
1 tbsp. Olive Oil
2 tbsp. Tahini
½ tbsp. Honey
1 tbsp. Apple Cider Vinegar
Salt, to taste
Black Pepper, to taste
Water (for consistency if necessary)
DIRECTIONS
1. Rinse and chop the produce accordingly. Rinse the arugula and set aside in a bowl until ready to serve. Chop the almonds.
2. Preheat an oven to 450˚ Line 1 baking tray.
3. Add sunchokes to baking tray, and season with salt and pepper. Drizzle with 1 tbsp. olive oil, and toss to combine. Once the oven is warm. Add sunchokes, and allow them to roast for 20-30 minutes, until tender enough to be pierced with a fork.