When you're strapped for time or want to put together a quick dinner, sometimes it is best to throw a bunch of simple ingredients together and seeing what happens.
That's basically what happened here. I was running low on food in the fridge, and I needed to clear it out before I was going shopping the following the day.
The sprouts were going to go bad if I didn't use them at this point, and I need a vehicle to bring together mushrooms, green beans, and pink beans (which I have never used before).
Luckily, I found some couscous and thought it was a great idea!
Turns out, it all ended up working out for a pretty solid, balanced, and well-rounded dinner.
Give this a shot and let me know what you think!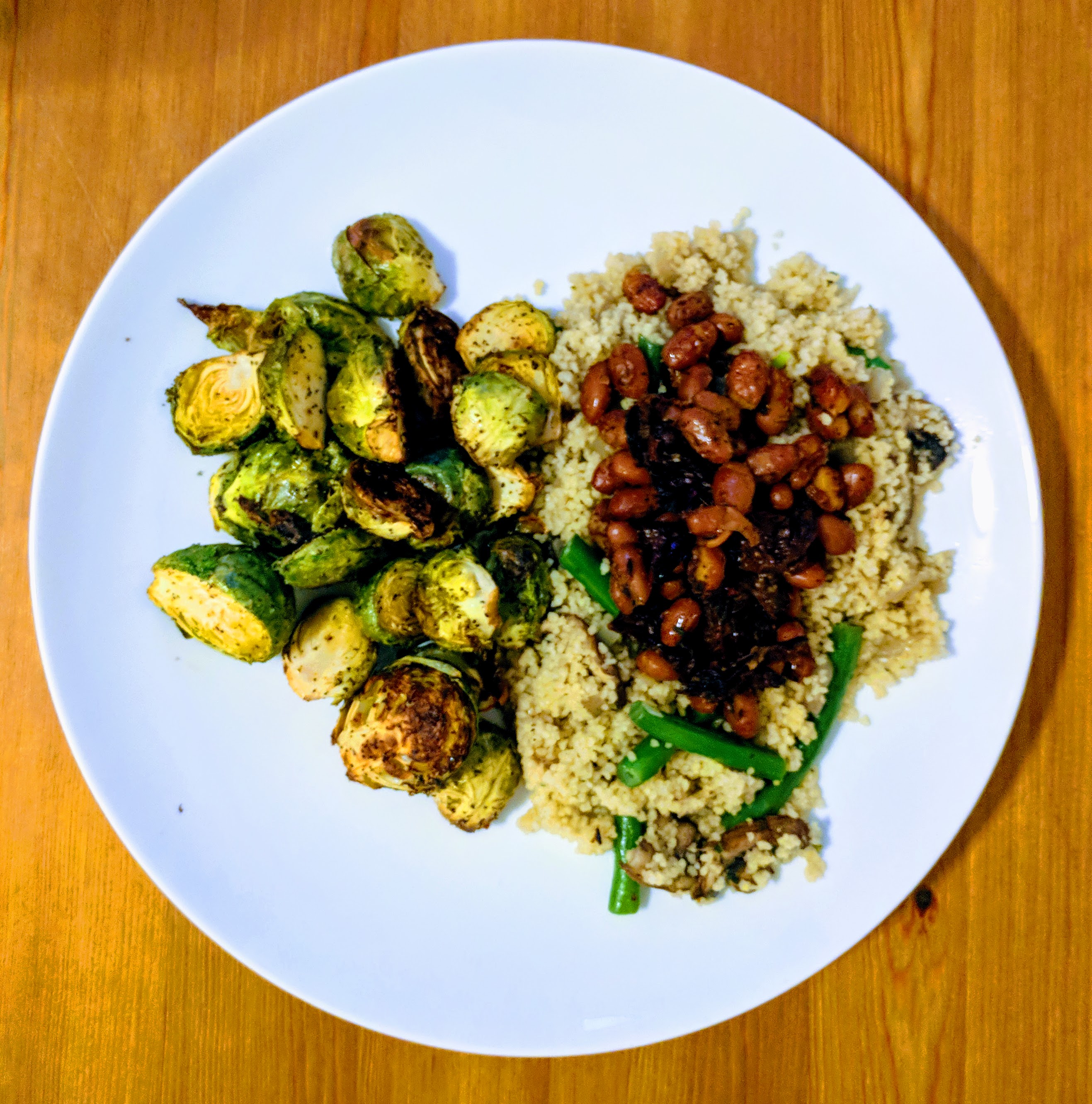 Serves: 2
You Need:
• ½ Cup Israeli Couscous
• 1 small can Pink Beans, rinsed and drained
• 10 oz. Green Beans, ends removed & halved
• 5 oz. Mushrooms, chopped
• 1 Yellow Onion, diced
• 12 oz. Brussels Sprouts, halved
• Olive Oil
• Salt, to taste
• Black Pepper, to taste
• 1 tbsp. Garlic Powder
• 1 tbsp. Chipotle Pepper Powder
DIRECTIONS
1.Rinse and chop the produce accordingly. Preheat an oven to 450˚F. Line 1 baking tray.
2.In a small pot, add 1 tbsp. olive oil set to medium heat. Once hot, add onion, and cook until translucent, 3-4 minutes. Then, add green beans and mushrooms, and cook until softened slightly, 3-4 minutes more. Season with salt and pepper.
3.Add couscous to pot with green beans, mushrooms, and onion. Add 1 ¼ cup water and bring mixture to a boil. Once boiled, reduce heat to a simmer and cover until water has evaporated, about 10 minutes.
4.Meanwhile, add brussels sprouts to baking tray. Season with salt, pepper, and garlic powder. Drizzle 1 tbsp. olive oil and toss to combine. Place in the heated oven and allow to roast for 20-25 minutes, until slightly browned. Then, remove until ready to serve.
5.In a pan set to medium-high heat, add 1 tbsp. olive oil. Once hot, add pink beans. Season with salt, pepper, and chipotle pepper powder. Cook for 3-4 minutes, until fully combined and set aside until ready to serve.
6.Plate couscous, and top with pink beans. Serve with a side of brussels sprouts. Enjoy!