Pulled pork is always a favorite. Today, we switched it up, and are trying a plant-based version.
Personally, I am not a huge fan of jackfruit, so we are going to try something different…
We're using mushrooms and beans! Beans for the protein, and mushrooms to get that meaty texture we're looking for.
The key to pulled pork, however, is the sauce. Now there are a bunch of different barbecue sauces out there, but many pre-made ones are loaded with added sugars and other crap. So today, we're making our own. This one has freshly squeezed orange juice as the base.
Check out the video below!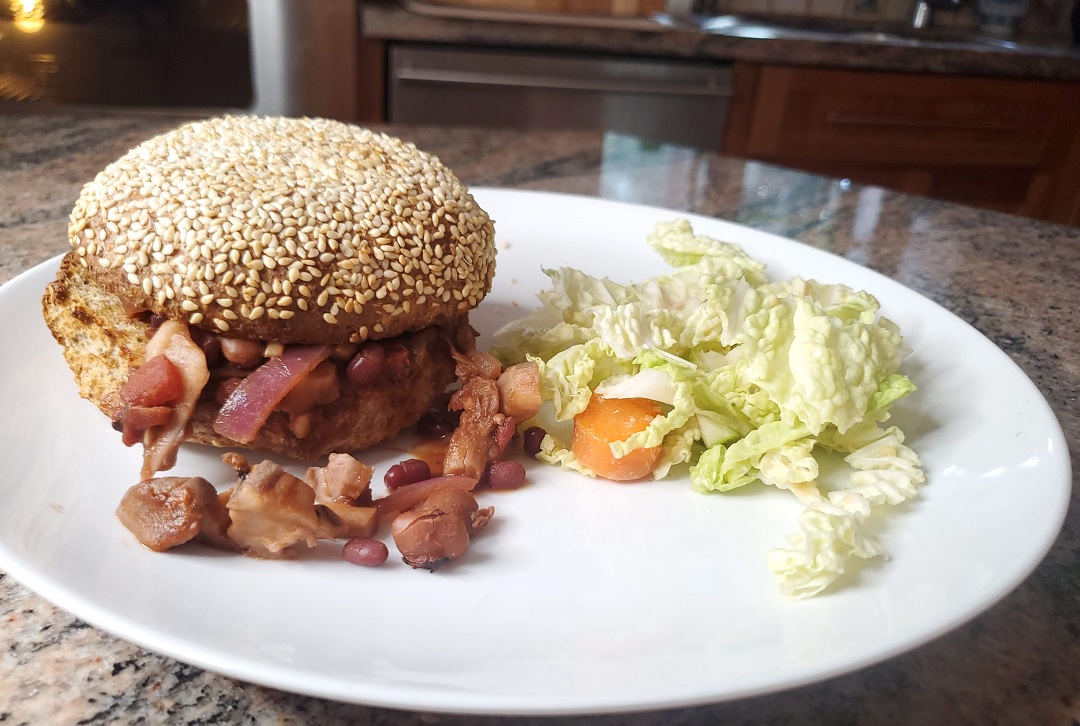 Cook and Prep Time: 30 minutes
Serves: 3-4
You Need
2 small cans Pinto Beans, rinsed and drained
1 small can Diced Tomatoes
1 lb. Oyster Mushrooms, chopped
1 Red Onion, halved and cut into half moons
1 head Garlic, minced
½ cup Dry Red Wine (optional, can use vegetable stock)
Olive Oil
Salt, to taste
Black Pepper, to taste
For the Sauce
4 Oranges, juiced
1 Lime, juice
2 tbsp. Tomato Paste
1 tbsp. Dijon Mustard
1 tbsp. Paprika
1 tbsp. Cumin
1 tbsp. Apple Cider Vinegar
Salt, to taste
Black Pepper, to taste
DIRECTIONS
Rinse and chop the produce accordingly.
Combine all sauce ingredients in a bowl, stir to combine, and set aside until Step 5.
In a large pan set to medium heat, add 1 tbsp. olive oil. Once hot, add garlic and onion, and cook until onion is translucent, stirring frequently, 4-5 minutes.
Add mushrooms, and cook for 2-3 minutes until softened. Then, add pinto beans, diced tomatoes, and red wine. Bring mixture to a boil and allow the alcohol to cook off, 3-4 minutes.
Add barbecue sauce to the pan with mushrooms and beans. Stir to combine and bring the mixture to a simmer. Cook until some of the liquid has reduced, 4-5 minutes. Season with salt and pepper to taste.
Place "pulled pork" on a bun and serve with homemade slaw. Enjoy!