One of the great things about making curries is the simplicity of it.
They highlight fresh ingredients and can be simple to make.
I do feel those who are not from an Asian background might feel intimidated making curries, but the fact is there really isn't a need to be!
In fact, I think they are similar to making a tomato sauce using coconut milk instead of tomato sauce.
Regardless, I will show you everything you need to make this simple and fantastic meal!
This is also great for large parties as well.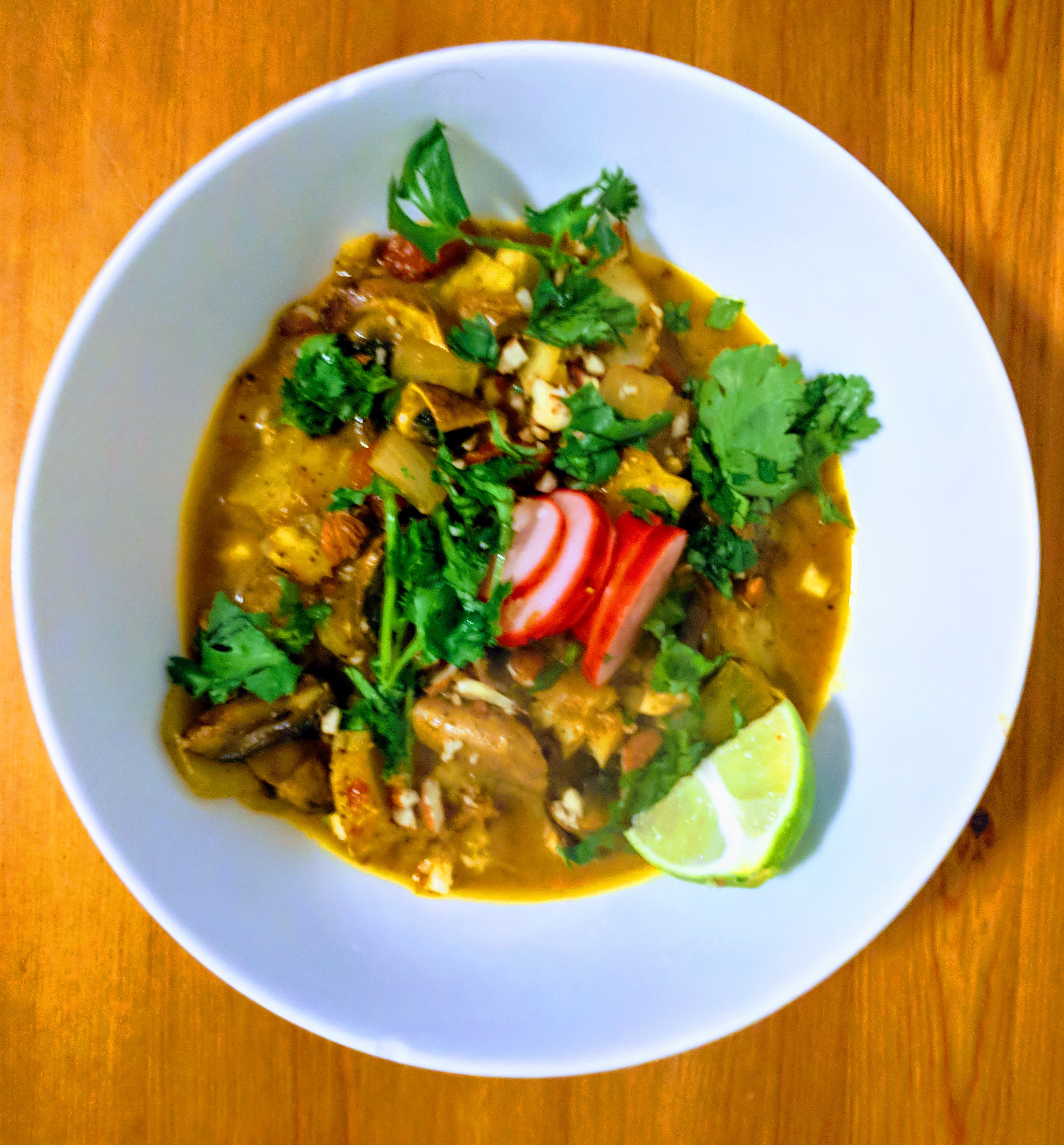 Serves 2
You Need:
• ½ Cup Quinoa
• 12 oz. Cod Filets
• 1 small can Coconut Milk
• 1 White Onion, diced
• 2 cloves Garlic, minced
• 3-4 Handfuls Baby Spinach
• 8-10 Shitake Mushrooms, thinly sliced
• 2 tbsp. Curry Paste
• 5-7 stems Cilantro, stems removed, leaves chopped
• 8-10 Mint Leaves, chopped
• 4-5 radishes, thinly chopped
• 1 Lime, juiced
• 1 Lime, cut into quarters
• Olive Oil
• Salt, to taste
• Black Pepper, to taste
• 1 tbsp. Turmeric
• ½ cup White Vinegar
DIRECTIONS
1. Rinse and chop the produce accordingly. Place chopped mint and cilantro in a bowl, stir to combine and set aside until ready to serve. Pat fish dry and season with salt and pepper.
2. Add quinoa and 1 cup of water to a pot. Add salt, stir to combine, and bring to a boil. Once boiling, reduce heat to a simmer and cover for 20 minutes, until water has evaporated. Once finished, fluff with a fork and set aside until ready to serve.
3. Place the radishes in a bowl and cover with the vinegar. Set aside until ready to serve.
4. In a large pan or wok, set to medium-high heat and add olive oil. Once warm, add onion and garlic. Stir to combine and cook until the onion is translucent, 3-4 minutes. Add curry paste and stir to combine 1-2 minutes.
5. Add coconut milk, turmeric, mushrooms, spinach, and lime juice. Bring mixture to a boil and then reduce heat to a simmer. Once the spinach begins to wilt, add cod filets. Allow cod to poach and cook fully, 8-10 minutes, turning halfway to cook evenly.
6. Distribute quinoa evenly among serving bowls. Top with curry, then garnish with radishes, mint/cilantro mixture, and lime wedge. Enjoy!