Fall and Winter are a great time for soups!
When I make soups, I really like to making substantial ones. Soups that can be a meal as a standalone dish if it needed to be.
This way, when I make extra, I can have it for lunch the next day!
That's not to say other soups don't have their place, they do. But from a time-saving perspective, this is the way I like to go.
Plus you get a lot of different colors in one bowl, and you can't go wrong with that!
This particular version is oil-free too! (And you don't miss it!)
So give this one a try! You won't be disappointed!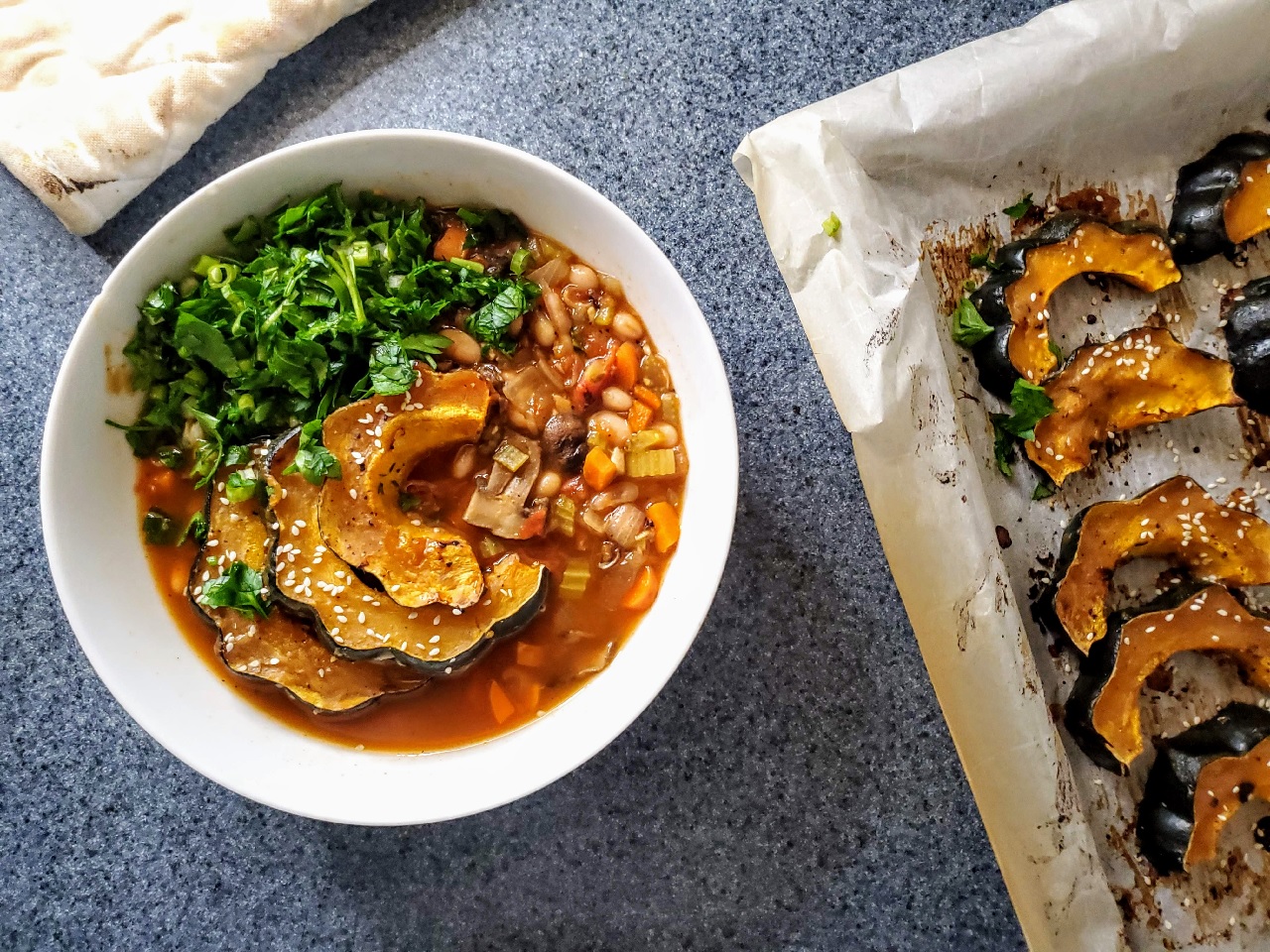 Hearty White Bean Soup
Serves 3-4
Cook and Prep Time: 45 minutes
You Need:
3 15 oz. cans White Beans
3 cups Vegetable Stock
4 stalks Celery, diced
4 Carrots, diced
1 large can Diced Tomatoes
3 cloves Garlic, minced
1 Yellow Onion, diced
8 oz. Cremini Mushrooms, thinly sliced
8 oz. Spinach
1 tbsp. Tamari
1 tsp. Smoked Paprika
1 tsp. Cumin
1 tsp. Dried Thyme
1 tsp. Dried Sage
Salt, to taste
Black Pepper, to taste
1 Lemon, juiced
Olive Oil or Vegetable Stock, for sautéing
Chopped Parsley, for garnish
DIRECTIONS
Rinse and clean all the vegetables accordingly.
Set a large pot to medium heat. Once hot, add 1 tsp. olive oil. Add garlic and onion, stirring frequently to avoid burning, 4-5 minutes.
Once softened, add carrots, celery, and mushrooms and stir to combine evenly. Cook for 5-6 minutes, until mushrooms have released all of their water.
Add dried spices and tamari. Stir to combine, and cook until fragrant, 1-2 minutes.
Add diced tomatoes with juices, white beans, and stock to a pot. Bring to a boil and then reduce heat to a simmer. Cover and allow to cook for 10-12 minutes, until flavors have melded.
Uncover and season with salt and pepper to taste. Add spinach and lemon juice, and stir until wilted, 1-2 minutes.
Distribute evenly among bowls. Garnish with parsley. Enjoy!