This is one of my favorite dishes that I have ever made!
Try out this awesome, tasty, rich, and nutritious risotto dish! Risotto is a classic comfort food dish.
There are also a variety of different risotto recipes. While I really enjoy it, it is tough to find one that is not loaded with cream and cheese.
This is obviously a problem for those who are lactose intolerant or want to be dairy-free. That's why I wanted to make one for this channel.
Risotto is not something I normally make because it is a lot of work. However, I learned this hack in making the rice that makes the process MUCH easier.
Since this is a plant-based version, we are going to add mushrooms to give the dish a meaty texture, and cannellini beans to add some protein and fiber.
We'll also throw some spinach in to get some greens in a dish that normally does not include any. Hope you enjoy the recipe! !
You can check it out in the recipe and YouTube Video below!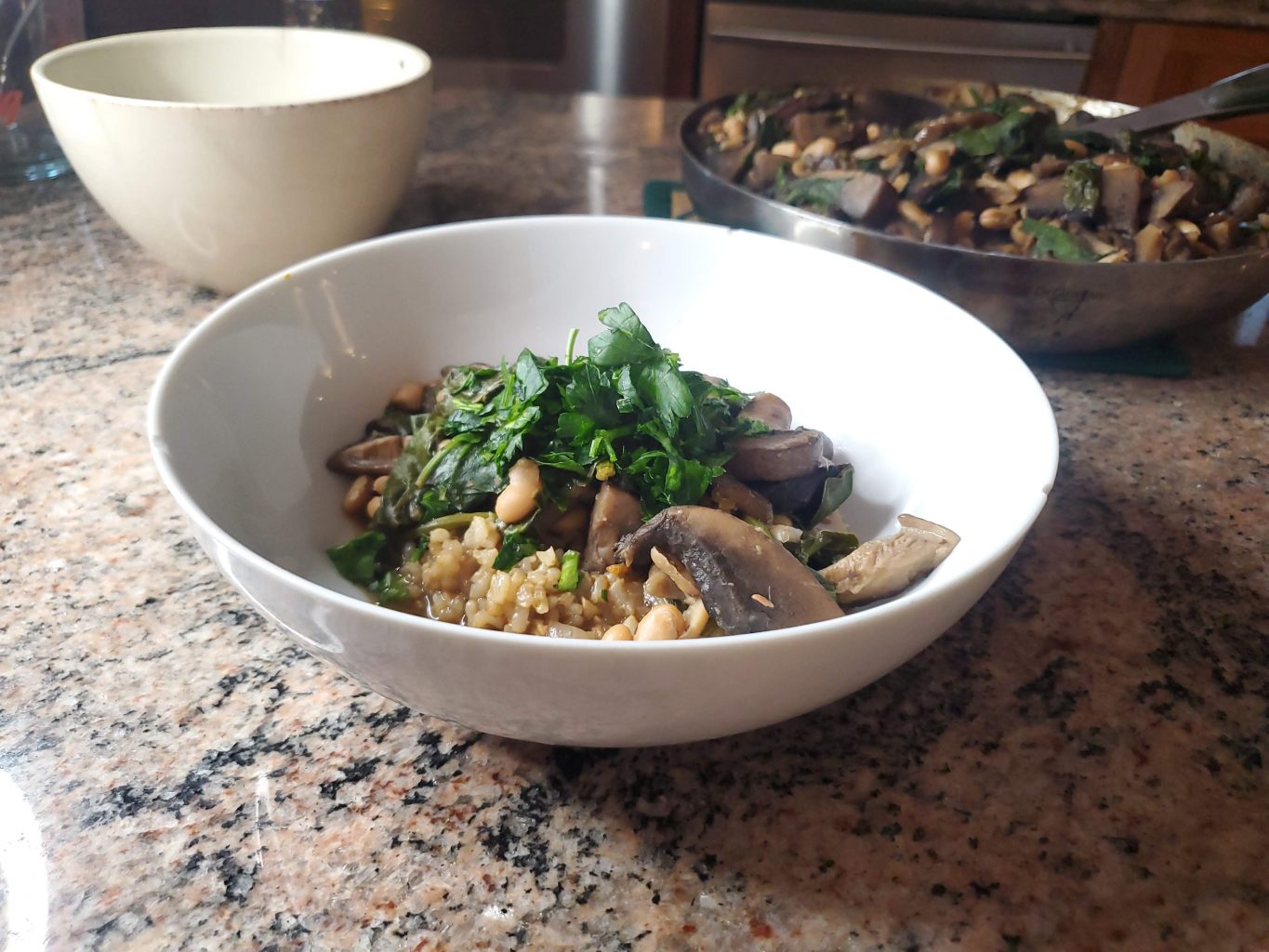 Cook and Prep Time: 75-90 minutes
Serves: 4-5
You Need
1 ½ cups Short-Grain Brown Rice or Arborio Rice
3-4 cups Chopped Mushrooms (any kind or mushroom or a combination will work)
5 cups Vegetable Stock
1 cup Dry White Wine
1-2 bunches Spinach, roots removed and chopped thinly
1 tbsp. Ghee OR EVOO (to make this recipe 100% WFPB)
1 White Onion, diced
1 head Garlic, minced
½ cup Chopped Parsley, for garnish
1 small can Butterbeans or Cannellini Beans, rinsed and drained
1 Lemon, juiced
Olive Oil
Salt, to taste
Black pepper, to taste
2 tbsp. Tamari
3 tbsp. White or Yellow Miso
1 tbsp. Dried Sage
1 tbsp. Dried Thyme or Leaves of 2 Thyme Sprigs
DIRECTIONS
Rinse and chop the produce accordingly. Preheat an oven to 375˚F.
Set an oven-friendly pot or Dutch oven to medium heat on a stove top. Add 1 tbsp. olive oil. Once hot, add garlic and onion, stirring frequently to avoid burning. Cook until onion is translucent, 4-5 minutes.
Add rice, 4 cups vegetable stock, and half of the white wine to the pot with the onions. Add thyme, sage, black pepper, and 1 tsp. salt. Stir to combine and bring to a boil.
Once boiling, cover the pot and place it in the oven. Allow the rice to cook for 60-70 minutes, until tender.
Cook the mushrooms. Set a pan to medium heat and add 1 tbsp. olive oil. Once hot, add chopped mushrooms. Cook until all water has been released, about 3-4 minutes. Then, add the rest of the wine, lemon juice, and 1 tbsp. miso. Stir to combine and bring to a simmer. Add cannellini beans and spinach, and stir to combine, cooking until alcohol has burned off, another 3-4 minutes. Season with salt and pepper, and then set aside until Step 6.
Remove the rice from the oven. Add the final cup of vegetable stock, ghee, and miso to the pot with rice. Stir to combine fully and mixed evenly throughout.
Distribute rice, and top with mushroom mixture. Garnish with chopped parsley. Enjoy!