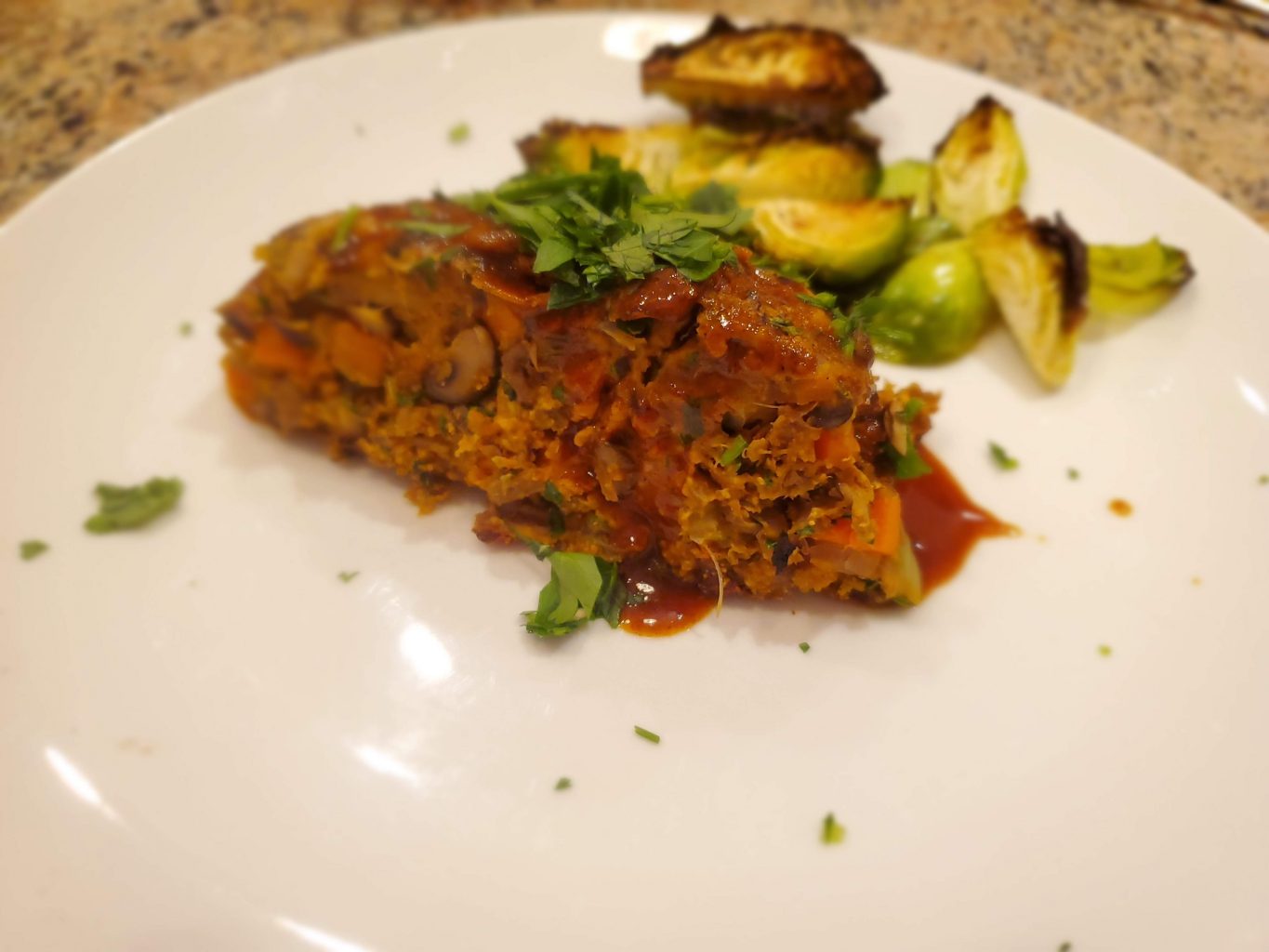 Cook and Prep Time: 60 minutes
Serves: 4-5 people

You Need:

• 1 small can Chickpeas, rinsed and drained
• 1 small can Lentils, rinsed and drained
• 1 head Dinosaur Kale, finely chopped
• 1 White Onion, diced
• 3 Carrots, diced
• 3 stalks Celery, diced
• 1 head Garlic, minced
• 1 tbsp. Thyme, dried
• 1 tbsp. Sage
• ½ tbsp. Dried Rosemary
• 1 tbsp. Smoked Paprika
• 1 tbsp. Ground Cumin
• ½ cup Parsley, chopped
• 2-3 cups Button Mushrooms, minced
• 2 tbsp. Tamari sauce
• ½ cup Almonds, chopped roughly
• 1 cup Oats, ground into a flour
• 2 tbsp. Tomato Paste
• 1/3 cup Golden Raisins
• Salt, to taste
• Black Pepper, to taste
• Olive Oil
DIRECTIONS
Rinse and chop the produce accordingly. Preheat an oven to 400˚F. Line 1 bread loaf baking tray (or 2 if needed).
Set a large pan or skillet to medium heat and add 1 tbsp. olive oil. Once hot, add onion, celery, and carrots. Sauté until softened, 6-7 minutes. Add garlic and tomato paste, and cook for 1 minute more.
Add mushrooms to the pan, and cook until they have released their liquid and the pan has dried up on the bottom, 6-8 minutes. Add tamari, and toss to combine. Remove from heat and set mixture aside to cool.
To a large bowl, add chickpeas and lentils, and begin to mash. Do not mash completely to keep some texture in your filling.
Add the cooled mixture, almonds, raisins, oat flour, spices, and half of your parsley. Toss to combine so that the flour has been completely incorporated. Add more oat flour if needed. Season with salt and pepper if necessary.
Place mixture in your baking tray, patting down to ensure there are no air pockets. Repeat the process in a second tray if needed. Place trays in the oven, and bake for 20-25 minutes.
Remove your baking tray from the oven, and garnish with parsley. Enjoy!