A lot of different components going on here. More often than not, when I shop, I buy a few ingredients and repurpose them in different ways.
Cabbages are very cheap and are great to add to salads and slaws. These can be eaten on their own, to top tacos, or served as a side dish like I did here.
Cabbage is definitely an ingredient that can be used multiple times because of its sheer size.
Unless it is all you're eating, a single cabbage can last you 2-3 different meals.
They can also be pickled, and you can make your very own sauerkraut! NOTE: if you make a purple cabbage sauerkraut, you can add a really cool color and flavor to your dishes!
The question just becomes how are you going to use it?
Here, I used it as a simple slaw with a lime dressing, and the directions are listed below: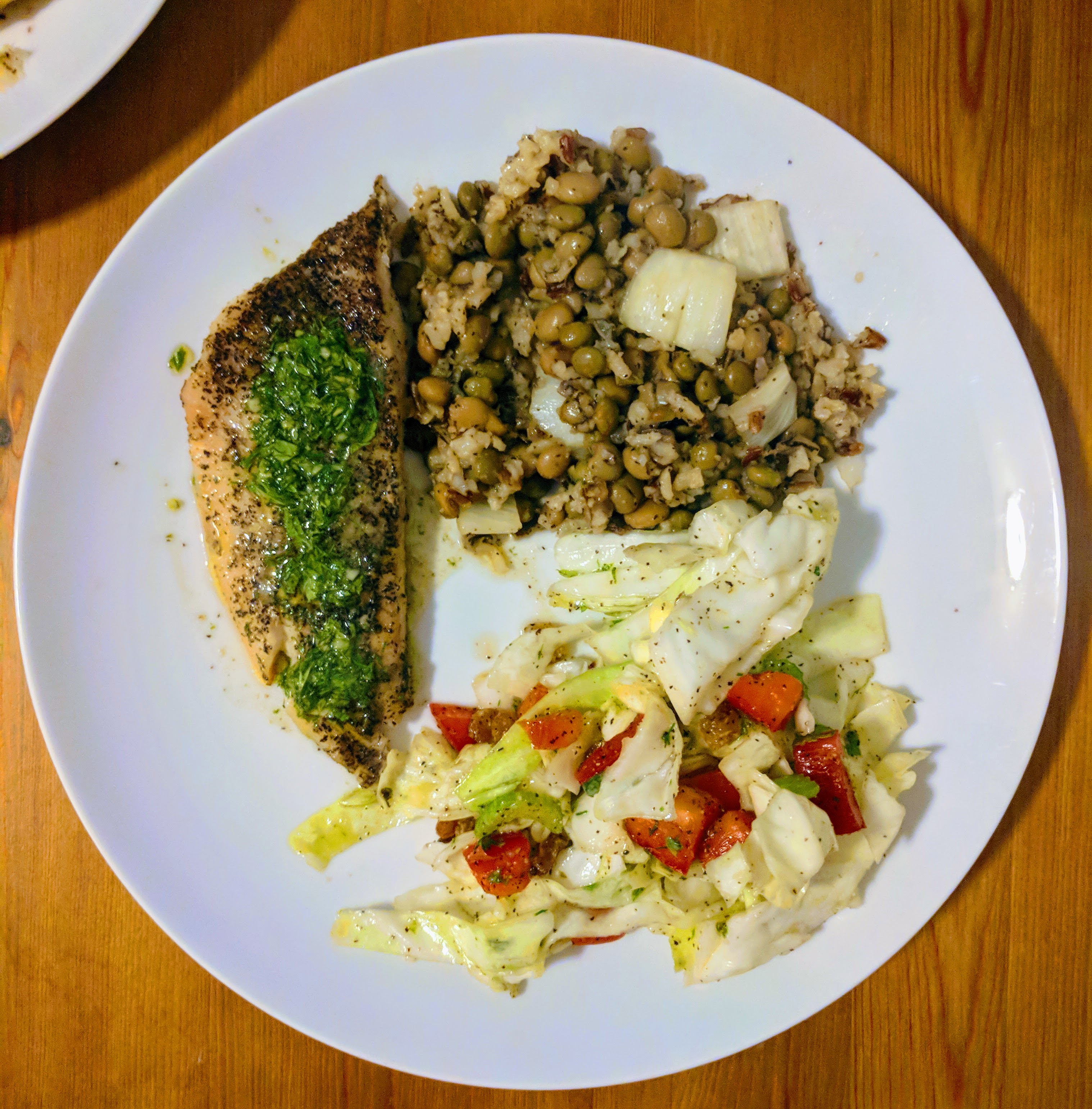 Serves 2
You Need:
•1/3 head Cabbage, shredded
•2 6-8oz Mahi Mahi filets
•½ cup Brown rice
•1/3 cup Lentils
•1 Red Bell Pepper, diced
•1 stalk Celery, chopped thinly
•1 Lime, juiced
•2-3 tbsp. Pesto
•½ White Onion, diced
•Olive Oil
•Salt, to taste
•Black Pepper, to taste
DIRECTIONS
1. Clean and chop the produce accordingly. Rinse the lentils under running water.
2. In a pot, add 1 tbsp. olive oil and set to medium heat. Once hot, add onion, and cook until translucent, stirring occasionally, 3-4 minutes. Then, add rice, lentils, and 1 ½ cups water. Bring to a boil and season with salt. Once boiling, reduce heat to a simmer and cover until cooked and water has evaporated, about 20 minutes.
3. Season Mahi Mahi filets with salt and pepper all over. In a pan, add 1 tbsp. olive oil and set to medium-high heat. Once hot, add filets, and cook 3-4 minutes per side. Remove and set aside to rest until ready to serve.
4. Meanwhile, in a bowl, add the cabbage, bell pepper, celery, juice of 1 lime, 2 tbsp. olive oil, salt, and pepper. Stir to combine. Set aside until ready to serve.
5. Divide the lentils & rice, slaw, and Mahi Mahi even amongst serving plates. Top each Mahi Mahi filet with pesto. Enjoy!